Find Serenity In The Desert With Our Las Vegas Deals
Situated steps away from the thrill of Las Vegas casinos and world-class entertainment, Serene Vegas is a relaxing destination where you can unplug and unwind. Calm surroundings and contemporary suites entice you to relax, while desert-inspired landscaping and two courtyard pools invite you to soak up an hour of peace in the sun. Experience a relaxing getaway, without being far from the action, with our selection of Las Vegas hotel deals. Whether you're in town for a family vacation, a business conference, or a romantic escape, Serene Vegas offers affordable packages and a laid-back ambiance so you have the freedom to be you.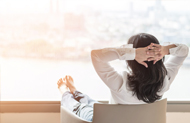 No Hurry, No Worry:
No Hurry, No Worry! Book our best available rate, stay Sunday through Thursday, and receive a complimentary late check out of 2 pm.